JUNKYARD ANGELS: Chapter 15A
When we left them last, Jason and his friends were getting ready to head out to find his boyfriend Bobby (previously thought dead)…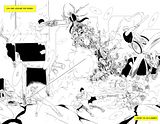 (CLICK TO ENLARGE)
This fantastic scene was created by Juan Fleites.  Juan is a professional artists and animator from Mexico. You can check out more of his work at: Blog: http://venenomagico.blogspot.com
Chapter 15 will continue in the coming weeks as a series of battles illustrated the fantastic artists on the JUNKYARD ANGELS team.
The Junkyard Angels/Super Duper  crossover will be up soon!
Junkyard Angels #15
Written by: PK Eiselt
Art: Juan Fleites
Art Director: Zach Enea
Colors: Andrew Whelan
JUNKYARD ANGELS #1 now available for sale at:
INDY PLANET
&
GRAPHIC.LY
Junkyard Angels#2 available soon!
SEASON 2
Prologue - Chapter 10 – Chapter 11 – Chapter 12
Chapter 13 – Chapter 14 – Chapter 15A – Chapter 15B -
Chapter 16 – Chapter 17
Contact us:
junkyardangelscomic@gmail.com
facebook.com/junkyardangelscomic
http://twitter.com/Junkyardangels
One comment on "
JUNKYARD ANGELS: Chapter 15A

"
Pingback: DoorQ.Com | JUNKYARD ANGELS: Chapter 15B
Leave a Reply